About us
MyOverseasProperty.ie is an award winning company, which was founded in 2005 by a team of foreign real estate specialists. We are Ireland's leading overseas property website for buying, selling or renting an property overseas. Our team has successfully developed, marketed and sold overseas property in many countries across the globe. The mix of our skill sets is what has made MyOverseasProperty.ie a success story. MyOverseasProperty.ie is now a recognised brand and spokesperson for the overseas property industry. Our expert contributions regularly appear in the national newspapers such as the Sunday Times, The Irish Independent, The Sunday Tribune and many industry related magazines and programmes. MyOverseasProperty.ie has become an online marketing specialist for overseas property and is now No.1 for "Overseas Property" in Google Ireland.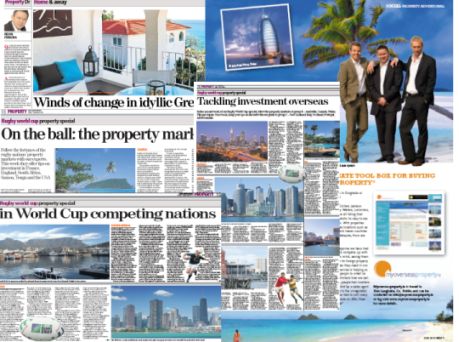 Why was MyOverseasProperty.ie set up?

After working many years in the foreign real estate industry we saw the need to be able to help the consumer, property investor, overseas buyer in providing free expert advice while also providing a platform for agents, developers and private property owners with all the necessary services to promote and market their properties for sale or rent.

So many individuals invested in foreign real estate without the knowledge regarding technical issues such as tax, legal, financial advice or understanding the risks that are involved. By means of our "ask and expert" service our plan was to assist buyers with such issues. With all the contacts MyOverseasProperty.ie has developed over the years we can point buyers in the right direction when we don't have the answer.

What services are available on MyOverseasProperty.ie?

Property advertisement for agents and developers
Sell your overseas property - for private owners of overseas property
Rental property advertisements – For property management companies and private owners
Commercial advertisement for business such as airlines, hotels, insurance etc.
PR & Marketing services.
Foreign mortgages and legal packages.
If your company can provide a service for our audience we are always open to discuss new ventures.


If you would like to avail of our different services please arrange a meeting or contact us on the details provided below.




The MyOverseasProperty.ie Team
Registered as Ardour Media Ltd, Trading as MyOverseasProperty.ie, Registered in Dublin, Ireland. Reg Number: 429690